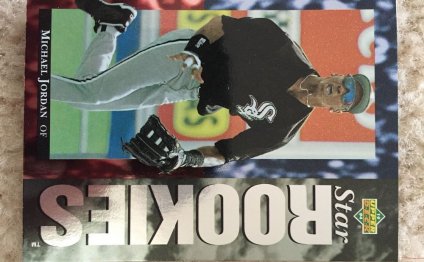 Michael Jordan Star rookie card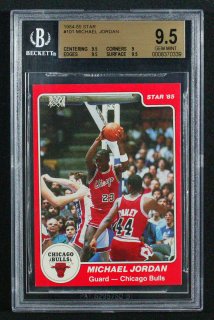 By Stephen Laroche | Beckett Basketball Editor
It has been 30 years since Michael Jordan made his NBA debut and a professionally graded gem mint trading card issued by Star Company during his rookie season is now up for sale courtesy of Beckett Auctions.
Opening at $50, 000, the bidding war for this piece of cardboard history is expected to be intense as it is the first copy of the 1984-85 Star Company #101 card to ever receive a 9.5 grade from Beckett Grading Services.
Due to the manner in which it was issued, the card falls under the category of XRC since it was issued as part of a team set at the time and not in wax packs. During the mid-1980s, Star was the only licensed manufacturer of NBA trading cards for three seasons and the bagged sets were normally only sold by hobby dealers instead of being available in packs at a traditional retail outlet.
Steve Taft, a longtime dealer who is recognized in the hobby as being the foremost expert on Star Company's basketball cards, spoke with Beckett Basketball about how the hobby reacted to the product at the time.
"Back in those days, basketball was just a tiny part of the card hobby, " said Taft. "It was dominated by baseball and even football was a pretty minor part of the hobby. It took about five years or so for things to get rolling. I think it was around 1988 when some of those Jordan cards suddenly went from five bucks to 10 bucks to 20 to 50 to 100 in about three months."
Taft had the foresight to heavily invest into the early Star sets due to his belief that basketball cards were heavily undervalued at the time. Sales were slow initially, but they took off once the hobby began to realize how limited they were and collectors watched Jordan quickly assert himself as one of the sport's legends over his first few seasons.
"I would order anywhere from 20 to 50 of each set. Keeping in mind, I was fresh out of college and wasn't making a ton of money, so part of that had to do with what my cash flow was. If I had the cash flow, I would have bought a couple hundred instead. I was buying what I could. With the team sets, they typically came out in a series where you could buy eight teams at a time."
At the time, Taft was paying $2 to $5 per set, but profit margins were minimal in the beginning. He was not in a hurry to sell and the wait proved to be worthwhile once Jordan began winning championships and the hobby boom of the early 1990s was in full swing.
Due to the manner in which they were produced, the Star Company sets are often difficult to find in gradeable condition – even after they initially left the factory. As a result, there are several factors which make the Jordan XRC a challenge to find.
"There are multiple factors that go into determining the condition of the varying Star Company cards, " said Taft. "First and foremost is that with the 1984-85 set is that the sheets were not cut well. I'm going to assume that they didn't line up the blades properly to the cards or perhaps when they put the sheets on the machine for cutting, they didn't put them down properly. If you start going through a bunch of 1984-85 cards, you're going to see tilted cuts on tons and tons of cards. That's the first problem in getting a gem mint card. Was it a good enough cut at the factory? The answer usually is, for the most part, no.
"If you have a factory sealed bag of the Bulls set and you take a good look, you'll see that there is a difference in how these cards are sized. You might have five cards that are the right size, four that are a little too small, and three that are slightly too big. That's a huge problem and typically the top and bottom card in the bag can be subjected to a little extra wear, so you've got corner issues there. When you look at the various colors of the borders, the reds will get little touches of them. Like the black on 1971 Topps Baseball, the red on the 1984-85 Bulls is really hard to get sharp corners. You can look at them and they start to fade!
"You put that all together and when people are trying to build the sets, the 1984-85 is going to be difficult to build in high grade. Because of how the sheets were cut, that's going to hurt you out of the gate. Whereas in the 1983-84 and 1985-86 sets, the cuts were better."
When asked about the potential ceiling in value for the Star Jordan, Taft believes that once more collectors realize how scarce the card is, its true value will be realized in the marketplace.
"I think it should be worth significantly more than a gem mint Fleer card, " he said. "If you want a BGS 9.5 or a PSA 10 of the Fleer rookie, you can go on eBay and a few other websites and major card shows and you can buy the card. You may have to negotiate, you may have to pass on it because you can get a couple hundred dollars off the price you see. You can go get that card today, whereas the Star, right now, there's one of them."
Part of what may have held the Star Jordan card back with collectors in the perception that a plethora of counterfeit versions make it difficult to determine the authenticity of the cards. Taft disagrees with the notion and explained his reasons why people should not be afraid to buy one.
"The counterfeiting of the 101 is probably the dirtiest little secret in the card world, " he noted. "There are no good counterfeits. They're all very obvious, but the perception is there are counterfeits so good that you can't tell the difference. That's not true. If that counterfeit exists, I haven't seen it yet and I like to think that I've seen everything that there is to see.
"There's a few different varieties, " he continues. "One has great big wide borders and it looks like a counterfeit of that 1996 Topps reprint rookie set that they did. The other one that is common is very fuzzy in the picture and there's another one that is really bad. You can see it's a counterfeit from the other side of the room. The one thing that has really held down the value of Star Company cards is the fear of counterfeits and yes, there are counterfeits. They're really easy to spot. I've always been disappointed that the hobby has such a fear of the Star counterfeits when it's the Fleer that has more different counterfeits and the effort that goes into making them is greater. When collectors realize that the counterfeit situation is not nearly as scary as people think it is, that card will start to move toward its true value."
Source: www.beckett.com
RELATED VIDEO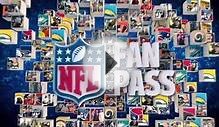 2015 NFL rookies get their football cards made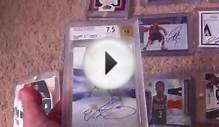 (Full)Mystery Pack OFFICIAL SIgn UP Michael Jordan AUTO ...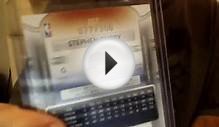 Basketball Rookie Cards FS FT Video Part 1
Share this Post
Related posts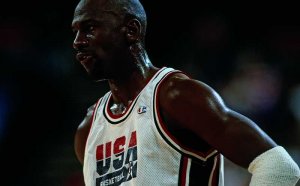 DECEMBER 05, 2023
Basketball superstar Michael Jordan (born 1963) was one of the most successful, popular, and wealthy athletes in college…
Read More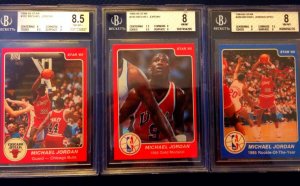 DECEMBER 05, 2023
Beckett Grading solutions will undoubtedly be growing its portfolio of solutions to include '83-86 celebrity Company basketball…
Read More